Posted on
Trade Show Updates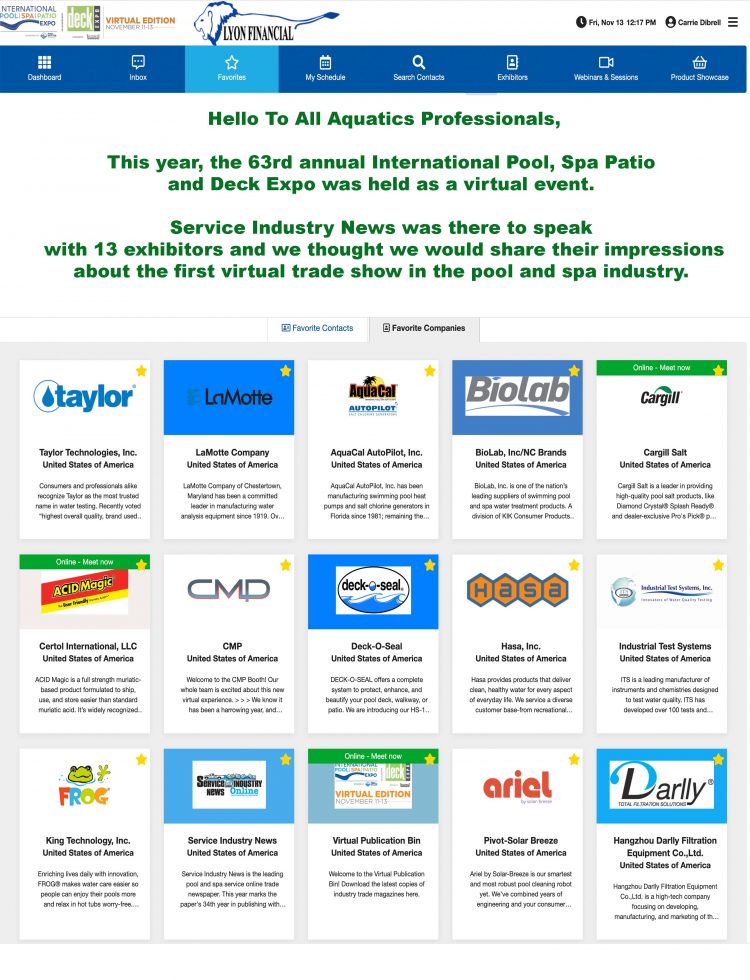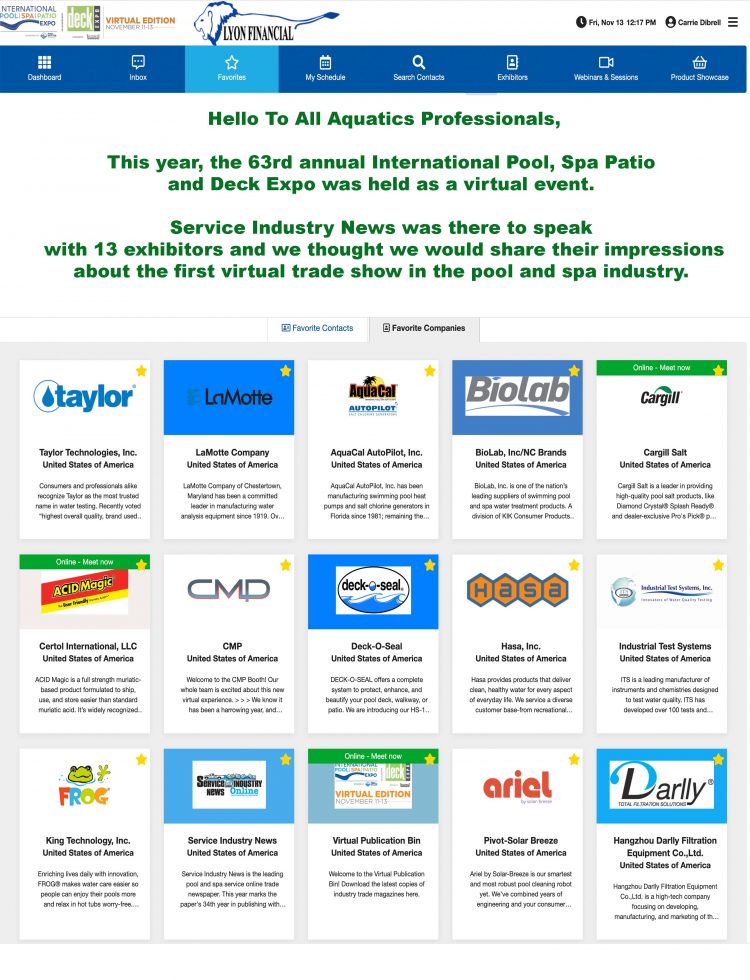 Hello To All Aquatics Professionals,
This year, the 63rd annual International Pool, Spa Patio and Deck Expo was held as a virtual event and Service Industry News was there to speak with some of the exhibitors.
We asked if they would share their impressions about the first virtual show
in the pool and spa industry and here is what they said:
"I liked the look of the booth and the structure of the show. The information we had as exhibitors was great, and so was the fee to exhibit. We generated some new business accounts and all-in-all, it was a good first time experience." Kim Guerra, AquaCal, AutoPilot
"I enjoyed the meetings I had at the show. The virtual platform allowed for quality interactions with participants seeking product and program information. Even though we all miss in-person shows, attendees who took advantage of the one-on-one meetings and booth drop-in capabilities benefited from the event." Jamie Novak, BioLab Inc.
"It was really a refreshing change from the regular pace of shows and it was a nice little twist too." Susie Cuebas, Custom Molded Products.
"It was great to see so many different people and not have to travel to do it. It was also really nice to have one-on-one, more focused conversations with people." Stephen Boswell, Custom Molded Products.
"This was something new for the industry and unfortunately I think we are going to have to evaluate whether or not a show like this really works on a virtual platform. There were some technical glitches with sound and mics not working. Drop in activity to the virtual booth was unimpressive and I believe the show organizers should offer some sort of incentive for registrants to visit the exhibitors. I also heard of people who registered but then got lost trying to get in. This was a new venture and like all new things there is going to be bumps in the road. Hopefully PSP will learn from the feedback and make improvements. Or better yet we can get back to face to face meetings." Terry Arko, Hasa Inc.
"It has been very quiet. Everyone is on similar platforms and while the camera function was good, the messaging system could have been better." Orey Schumacher, Cargil Salt
"It was a good experience overall. The platform was cool and it worked well if you scheduled meetings ahead of time. I didn't attend any classes but we did sponsor 2 webinars." Aaron Trapp, Certol International
"It has not been extremely active, but we have been in touch with some of the other companies at the show. We recorded some video and that was fun and it has been cool to be creative." Dane Hudlik, King Technology, Inc.
"While I missed the in person aspect, I thought I had more meaningful connections with people, compared to when people are just walking by your booth. Also, make sure the show organizers know that you have to keep your meeting button turned to the 'on' position while you are 'at' the show because it is equal to being at your booth." Hana Alanis, Pivot-Solar Breeze
"At Industrial Test Systems, we had some interested folks; connecting with people in our virtual meetings, and getting a chance to network." Mike McBride, Industrial Test Systems
"You (Service Industry News) were my first meeting and it has been a very pleasant conversation." James Egan, LaMotte Company
"It has been intriguing to do the show this way and it is definitely a change. It was slightly disappointing that there were not more attendees but it is better than flying." Kathy Bondarenko, Taylor Technologies
"As a first time experience with a virtual trade show, there have of course been some ups & downs — but that we can still meet with each other and meet with customers, this has been really good. Health and safety are always first and this is working as best as it can." Wayne Ivusich, Taylor Technologies