Posted on
Don't fall victim to hotel room CO poisonings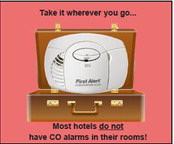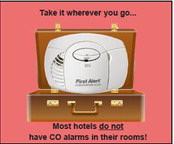 Pool and spa related carbon monoxide poisonings are common. Improperly vented or damaged exhaust systems from pool or spa heaters are responsible for numerous fatalities or injuries every year.
According to the CDC, unintentional carbon monoxide poisoning accounts for over 20,000 emergency department visits for non-fatal poisoning and approximately 400 deaths in the U.S. annually. Many of these are connected to a pool or spa. Furthermore, many or these occur in commercial settings such as motels, hotels and resorts where, in most states, carbon monoxide sensors are not required.
In 2013, Daryl and Shirley Jenkins died of carbon monoxide poisoning in a hotel room from a corroded pool heater exhaust system located directly below their room. Seven weeks later, two more victims of carbon monoxide poisoning were found unresponsive in the same hotel room. Eleven-year old Jeffrey Williams was dead, while his mother, Jeannie, suffered permanent injury to her brain.
It was later learned that the motel had no carbon monoxide detection system installed to alert the guests to evacuate the room or to provide the motel staff with the information that their guests were in life threatening danger.
It took a HazMat team to finally determine what a simple carbon monoxide alarm could have done, weeks earlier. What could and should have been only a simple building evacuation instead resulted in the loss of three lives.
Ironically, both Daryl and Shirley were well educated about the dangers of carbon monoxide. They had alarms in their home. Shirley worked for a natural gas company for 30 years, keenly aware of the danger of carbon monoxide and the lifesaving value of carbon monoxide alarms.
Following their deaths, the Jenkins Foundation was formed to educate the public about carbon monoxide poisonings and advocate for a legal requirement for carbon monoxide sensors.
It is not widely known that most U.S. hotels are not required to have carbon monoxide detection systems. As of 2019, only 14 states have statutes requiring detection in hotels (www.ncsl.org) and, of those, most require them only in newly constructed hotels. These include California, Florida, Louisiana, Maine, Maryland, Michigan, New Jersey, New York, North Carolina, Oregon, Tennessee, Vermont, West Virginia and Wisconsin.
However, representatives of the hotel industry have been quoted as saying the incidence of carbon monoxide poisonings in hotels is so rare, it is not necessary to have laws requiring the installation of alarms.
"You have a better chance of being struck by lightning than being hit with CO poisoning," Tom Daly, a consultant for the American Hotel & Lodging Association, said in a 2012 article written by USAToday.
Since that statement was made, there have been at least 86 carbon monoxide events at hotels, 19 of which were traced to a pool heater or boiler, and resulted in a total of 138 injuries and 3 deaths, according to data compiled by the Jenkins Foundation. In 2020 alone there have been at least 3 pool related carbon monoxide incidents in hotels which resulted in injuries to 24 people.
In December 2019, working in concert with the Jenkins Foundation, Dr. Lindell Weaver and Dr. Neil Hampson published an article entitled "Carbon Monoxide Poisonings in Hotels and Motels: The Problem Silently Continues" in the scientific journal Preventive Medicine Reports. From January 1, 2005, to December 31, 2018, they found a total of 115 incidents of carbon monoxide poisoning in U.S. hotels, motels and resorts which resulted in the poisoning of 905 individuals, including 22 fatal poisonings. A total of 28 of these incidents were linked to natural gas pool heaters resulting in 12 deaths.
The authors concluded "until rooms are outfitted with carbon monoxide alarms, travelers should consider carrying one when staying in a facility not known to be so equipped."
But is there something more that can be done by pool service technicians to prevent carbon monoxide incidents at the pools they service?
Ray Arouesty, Senior Vice President of Hub International Insurance Brokers, says yes, and that pool technicians have a legal duty to maintain the pool and equipment to avoid injury and/or property damage.
"Unfortunately, many service techs ignore the hazard of carbon monoxide poisoning. Service techs should visually inspect pool heaters to check for leaks and cracks.
Many carbon-related problems can be easily observed, but others, like a cracked plenum, is best discovered by using a carbon monoxide meter. It is especially important where the pool heater is installed indoors. Carbon monoxide meters are readily available at home stores and online, usually at a cost of under $150."
Take it wherever you go... Most hotels do not have CO alarms in their rooms!