Posted on
Pleatco filters the best from the rest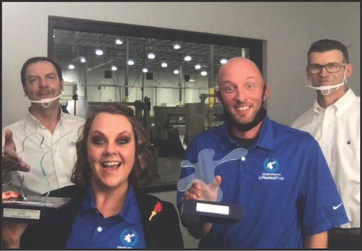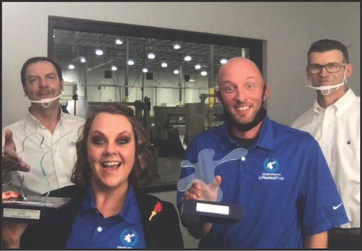 Perfect Pleatco Pool Guy and Pool Gal winners — Jesse Gist & Shannon Sellers celebrate their victories online
Congratulations to Jesse Gist and Shannon Sellers, the winners of the Pleatco Perfect Pool Guy and Pool Gal contest.
In addition to the honor of winning the award, the Pleatco Perfect Pool Guy and Pool Gal will also receive free Genesis training and thousands of dollars worth of products, including a LaMotte Spin Touch.
This year's Pleatco award ceremony had a very different feel from years past, broadcast from Pleatco's brandnew production facility in Louisville, Kentucky on November 19 via an online webinar platform.
With no need to travel, candidates, sponsors and presenters across the coun- try were able to join the live event to recognize the winners of the industry's most prestigious awards.
This year's finalists were an elite crowd. Picked out of over 150 nominations, participation in the contest was the highest it has ever been.
The 2020 Pleatco Perfect Pool Guy is Jesse Gist, of Gallagher Pools in Westminster Maryland.
With 20 years in the pool industry, Gist has worked nearly every job in service. According to Seth Soltow, Chief Operating Officer at Pleatco, Gist works closely with a young team and he is a role model and mentor to them.
"He maintains the highest technical
And this year the winners are... Jesse Gist and Shannon Sellers! Pleatco Perfect Pool Guy and Gal contest winners received their special awards from Pleatco's new production plant in Louisville, Kentucky. The ceremony was broadcast online November 19, 2020. standards and he is loved by his customer," said Soltow. "He is a humble backyard hero who puts his family and customers ahead of himself."
Accepting the award at the live broadcast, Gist thanked the contest's sponsors and his boss, Randy Gallagher.
"Thanks to Josh Resh, Dan Davis and, of course, my family. My wife Samantha sacrifices so much to give me the ability to achieve something like this," Gist said.
The 2020 Pleatco Perfect Pool Gal is Shannon Sellers, of Jeff's Pool and Spa in New Brunswick, Georgia.
According to Battista Remati, Chief Marketing Officer at Pleatco who announced the award, Sellers has worked in pool maintenance and retail, and is also a dedicated mentor, making sure to hand her knowledge down to those new to the industry "She's an amazing leader and a very strong powerful woman who has worked her way from the bottom all the way up through the ranks," Remati said.
Accepting the award at the live broadcast, Sellers thanked Pleatco for recognizing the service side of the industry.
"Thanks to Genesis, and to Lamott for the awesome SpinTouch. I can't wait to use that. Thanks to the Pool and Hot Tub Alliance, thanks to all my coworkers at Jeff's Pools and Spa, to my customers, and to my daughters Laura and Alanna," Sellers said.
Pleatco's additional 2020 award winners include: Customer Service Award: Ashlie Rabbitt, Orange County Pool and Spa, Mohegan Lake, NY.
Industry Leadership: Josh Fletcher, Collens Pool Management, Stockbridge Georgia.
Community Service: Brian Zettle, B & Z Pools and Decks, Johnstown, Pennsylvania.
Industry Spirit: Matthew Boranian, Doctor Pool of Hawaii, Holualoa, Hawaii.
Young Achiever: Michael Birch, Southern Splash Pools,Athens, Georgia.
LifetimeAchievement: Bob Charlton, Professional Pool and Spa Service, Citrus Springs, Florida.
Voter's Choice: Ken Post, California Dreaming Pools, San Diego, California.
Perfect Pool Guy Runner-up: Michael Baker, Ambiance Pool Service Supplies, Tucson, Arizona.
Perfect Pool Gal Runner-up: Trish Mendenhall,BlueSquarePools,Chandler Arizona.