Posted on
'Underwater Magic' fills gaps when pool is in use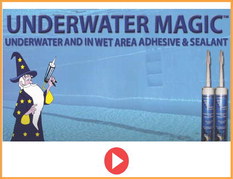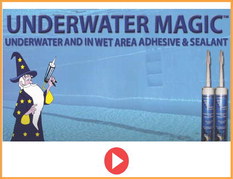 Underwater Magic ™ , based on a formula used by commercial divers to seal ship leaks, is a onecomponent glue that is resistant to sea and chlorine water and even seals underwater.
Underwater Magic is permanently elastic with good abrasion resistance and mechanical properties. It is temperature resistant, can fill gaps of up to 40 mm. and is allowed in areas close to food.
With Underwater Magic there is no complicated mixing, no clouds in the pool, and no silicone contamination. It can even be applied while the pool is in use.
Underwater Magic can be used on plastics, styrofoam, metal, wood, glass and ceramic, stone, granite, concrete, gunite, PVC-liner and fiberglass, with excellent adhesion on most surfaces without a primer.
Long-lasting Underwater Magic is available in several colors in a 290 ml. tube that fits into a standard caulking gun and is offered in white only in a convenient 2.1 oz. squeeze tube.
For more information, contact Underwater Magic, Dept. SI, 3120 E. Medina Rd., Tucson, AZ 85730. Telephone 866-601-7411. Online www. underwatermagicusa.net.
The PoolCleaner ™ by Poolvergnuegen, from Hayward Pool Products, of Clemmons, N. C., with patented self-adjusting turbine vanes, offers maximum power at virtually any flow.
Patented tire treads provide enhanced climbing ability and obstacle maneuverability, especially with main drains, making it ideal for all pool surfaces and shapes. Patented adjustable roller skirts allow the cleaner to maintain optimal suction on uneven surfaces and when encountering obstacles.
Three easily interchangeable throats improve debris passage and suction performance, a helpful feature with variable-speed pools. Multiple pre-programmed internal steering sequences cause the left wheel to periodically reverse, allowing it to turn and then move into another direction for full pool coverage.
The 2-Wheel Suction Drive Pool Cleaner, provided with approximately 33 ft. of hose, is ideal for most average sized pools without a deep end. The 4-Wheel Suction Drive model, provided with approximately 40 ft. of hose, is best suited for larger pools with a deep end.
The Pool Cleaner is available in white or limited edition grey.
For more information, contact Hayward Pool Products, Dept. SI, One Hayward Industrial Dr., Clemmons, NC 27102. Telephone 908-355-7995. Visit Hayward online at www.haywardpool.com.