Posted on
Cowboy pools & hillbilly hot tubs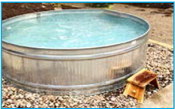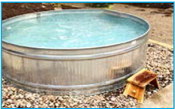 With stay-at-home orders in effect and entertainment venues closed, the world has turned to backyards for relief during stressful times. This year, that meant installing a pool or spa, an idea that occurred to everyone in the world at about the same time, and led to another of the shortages that has marked 2020.
Some consumers got to the table early enough to get their wish.
In Florida, Megan McGee started looking for an above-ground pool during spring break. Even still, it took traveling to five or six stores before she got lucky, and that was in March.
According to a recent article appearing in the New York Times, based on permit numbers, 94,000 new in- ground residential pools will have been built by the end of 2020, an increase of nearly 21 percent from 2019.
"I've been in this industry for 35 years and I've never seen anything like this," said Thomas Epple, chief executive of Only Alpha Pool Products in Fort Wayne, Indiana.
The New York Times further reports that the demand for hot tubs has been even higher than for pools – some suppliers are backlogged for six months or more.
Now, frustrated by the long wait times for pools and spas, some U.S. consumers have resorted to do-it-yourself pools and spas made out of metal stock tanks – as in tanks designed to feed and water large quantities of animals.
Most people say they aren't difficult to make. Quarantine has already helped many to hone their do-it-yourself skills and many of the components can be found at a local hardware store.
However, Julia Silverman, a writer for Monthly Portland, said the DIY project, which started in May after a friend recommended converting a stock tank into a pool, nearly ruined her marriage. The project took about four days, rather than two hours, as the online tutorial they were using suggested.
Their first hurdle was finding the stock tank itself. Because stock tank pools and hot tubs are all the rage this year, they weren't able to find a stock tank within a 200-mile radius.
Ultimately, however, they got the job done, and now that the husband and wife have resumed speaking to one another, they recommend it.
How to build a Stock Tank Pool
Tractor Supply Co. has a fairly detailed article on their website that explains what to do to get a stock tank pool set up in the backyard. They also have most of the tools needed to get started, as well as the stock tank itself (hopefully).
The following is adapted from the Tractor Supply Co website: Job one is obviously selecting the site for the stock tank pool. Prepare the area by creating a solid, level base. Use compacted sand, or even crushed granite. It's very important to ensure that it's a smooth surface, free of any rocks or sharp edges. This is true for using the stock tank for an above-ground pool, or an in-ground version. If digging a hole for an in-ground pool, remember to allow enough space behind the pool to accommodate the pump and hoses.
Next comes selecting the tank. Tractor Supply has a variety to choose from.
Clean the stock tank thoroughly. Next, determine the locations of the pump and hoses.
In the interest of simplicity, many people choose to hang the hoses over the side and weigh them down with cinder blocks or some other item. But for a more professional job, drill the appropriate holes in the side of the tank. Please note, although most of the tanks come with a pre-installed plug, it wasn't intended for the kind of water flow necessary to use the tank as a pool.
This is a great time to remember the adage "measure twice, cut once," because you don't want to leave too much open space around your fittings that will need to be sealed later.
In order to ensure the water keeps moving (which not only helps filter impurities, it also guards against mosquitoes), get a small pump, a filter and several feet of tubing. Use only a GFCI outlet for the electricity.
Once the pieces are in place and all seams are sealed with marine-grade sealant or plumber's putty, its time for the fun part. Fill her up!
From here, the only limits are your imagination. Build a small deck around the new stock tank swimming pool, using pavers or stone as a makeshift patio, or just leave it as-is and set out lounge chairs and sun shade. For the winter months, just add a heater for a Hill Billy hot tub.