Posted on
'Puddles' — The leak detecting dog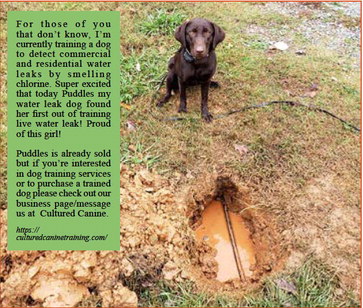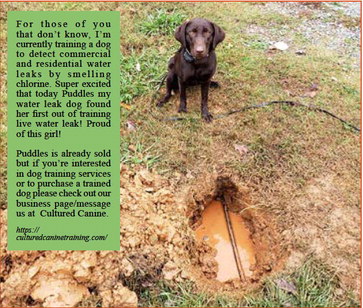 A North Carolina water utility company has a new employee, and she's not yet 1-year-old. Her name is Puddles, and she's a chocolate Labrador Retriever who is being trained to sniff out underground water leaks.
Cultured Canine is a dog training company in Asheboro, North Carolina. Business partners Annissia Justice and Alyssa Lubarski train dog basic obedience as well as therapy dogs to go into hospitals and service dogs for a variety of disabilities.
But a few months ago, they were approached by a Davidson Water official who wanted a dog trained to find underwater leaks, training they had never before done.
They accepted the challenge and have since learned the skills to teach Puddles, who is just 9-months old, how to perform a job that will help both the water utility company and its customers save money lost to leaking water.
According to Davidson Water CFO Chris Michael, Puddles is the second dog in the U.S. to be trained to detect water leaks.
The first was Vessel, a 3-year-old black lab mix who was commissioned by Central Arkansas Water to find leaks to reduce unaccounted water rates.
Puddles was purchased from a breeder, and currently lives with Justice. Justice leads the scent detection training, while Lubarski handles her socialization and obedience training.
According to the two women, at first they didn't know what they were getting themselves into, but soon learned scent-based training is about sniffing out chl'Puddorine in the water to discover underground leaks. They began with jars of chlorinated water, at various concentrations, hiding them to see if Puddles could find the water. Puddles training began in late March, and she can now smell a leak from 12 to 24 inches underground.
Although this is the first time Justice and Lubarski have trained a leak detection dog, they've trained scent detecting dogs in the past.
Two years ago, Justice joined a search and rescue canine team and trained two of her dogs to recover cadavers, and a third to be a live rescue dog.
"When the dog finds the thing you want them to find, you reward the dog with a toy or treat. You want them to want to do this job. They have to want to do this. Our training is not one size fits all. You have to find what makes them want to work," Justice said.
Currently, they are working with Puddles'eventual handler, a Davidson Water employee, by taking Puddles to subdivisions still under construction. They turn on one or two underground water meters and allow Puddles to roam lose until she catches the scent of chlorine.
They expect her to be fully trained after about a year, when she will leave Justice to live with her Davidson Water employee handler. The cost to train a dog for this job is between $20,000 to $30,000.
Justice and Lubarski have already been contacted by water utility companies across the U.S. to train dogs for them, and Justice says she will forever be thankful to Davidson Water for choosing Cultured Canines to train Puddles.
They currently work from their homes but will soon be moving to a new facility.
"When Davidson Water asked me if training a dog to detect water was possible, I was interested and excited. I was terrified and very nervous in the beginning, because this has only been done here one other time,' Justice said.
For those of you that don't know, I'm currently training a dog to detect commercial and residential water leaks by smelling chlorine. Super excited that today Puddles my water leak dog found her first out of training live water leak! Proud of this girl! Puddles is already sold but if you're interested in dog training services or to purchase a trained dog please check out our business page/message us at Cultured Canine.
https:// culturedcaninetraining.com/