Posted on
'Aurora 3800' commercial single stage Pentair pump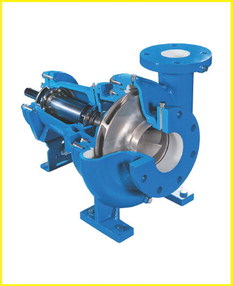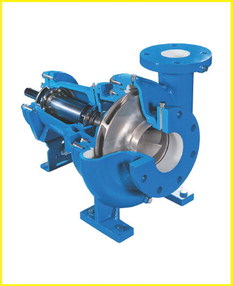 Aurora
® 3800 Series single stage end suction commercial pumps, from Pentair, Inc., of Cary, N. C., offer capacities to 4200 G.P.M.
These quiet, smooth running pumps include a back "pull-out" design for easier disassembly and a power frame providing maximum interchangeability for flexible coupled, horizontally mounted applications. The rear support foot simplifies coupling alignment.
Precision cast with dynamically balanced, enclosed impellers, Aurora 3800 pumps are hydrostatically tested at the factory to guarantee casting and seal integrity.
For more information, contact Pentair, Inc., Dept. SI, 1620 Hawkins Ave., Cary, NC 27330. Telephone 800-831-7133. Visit the company online at www.pentair.com.
Pourthane joint sealants from W. R. Meadows
® , Inc., of Hampshire, Ill., are now available in a variety of colors for enhanced aesthetic appeal.
Pourthane NS elastic, low-modulus, onecomponent, moisture-curing, non-sag, polyurethane sealant, which maintains flexibility while providing durability in horizontal and vertical applications, is offered in eleven colors, including white, offwhite, gray, aluminum gray, tan, redwood tan, stone, limestone, medium bronze, special bronze and black.
Pourthane SL elastic, one-component self-leveling polyurethane sealant for use in multi-purpose horizontal join sealing application, is offered in popular colors of gray, limestone and desert tan.
Sample cards showing actual colors for both products can be obtained by request. A digital, printable PDF is also available with color options.
For more information, contact W. R. Meadows, 300 Industrial Dr., Hampshire, IL 60140. Telephone 847-214-2100. Online www.wrmeadows.com.
'BalboaCS6000B'foreasy access to spa heaters
The Balboa CS6000B Slide Duplex Series, from Hydroquip, Inc., of Corona, Calif., an easy-access foot heater for spas, allows users to slide the heater from top to bottom. The unit comes with 1.375/5.5KW or 1.0/4.0KW 15-inch heater assembly and heater ON indicator light.
Options include "Plus Ozone" built-in, versi-heat remote heater with 60-inch heater cord for more versatile installation and locations, less heater models and various heater wattages.
Standard features for all Balboa Systems include VS or BP Series platforms; Slide Heater on all "US" systems; M7 technology equipped; standard, economy and sleep modes; spa-side control included; 12V light assembly; freeze protection; and all circuits convertible to 120 or 240VAC.
Installation kits are included as well as a detailed manual and wiring diagram.
Easy to install and service, American-made Balboa Series heaters are US and Canada UL recognized.
For more information, contact Hydroquip, Inc., Dept. SI, 510AN. Sheridan St., Corona, CA92880. Telephone 951-273-7575. Online www.hydroquip.com.
Haviland Pool & Spa aquires Blue Excess Mfg.
Haviland Pool and Spa, of Grand Rapids, Mich., has acquired Blue Excess of Chandler, Ariz. The manufacturing and warehouse facility will become Haviland Pool & Spa Southwest (HSW).
Blue Excess, founded by Blaine Mills, has been contracting chemical blends for regional and national pool and spa customers since 2013. Mills will continue managing operations at the Chandler facility.
HSW will be utilizing the tableting, blending and packaging capabilities of Blue Excess to strengthen the processes and products of Haviland's existing business groups.
Haviland Pool and Spa manufactures recreational water chemistry under a variety of name brands including ProTeam Durachlor, SpaPure and Stain Drop.
Haviland Enterprises, Inc., has been employeeowned since 1997.
For more information, contact Haviland Enterprises, Inc., Dept. SI, 421 Ann St. NW, Grand Rapids, MI 49504. Telephone 800-333-0400. Online www. havilandusa.com.
Need liquid stabilizer? Try
Bio-Dex to protect chlorine
Liquid Stabilizer & Conditioner, from Bio-Dex Laboratories, Inc., of Phoenix, Ariz., dissolves rapidly in swimming pool water to reduce chlorine loss caused by the sun's ultraviolet rays.
When the stabilizer level is low, more cleaner is required to keep a pool clean. A properly stabilized pool can extend the life of the sanitizer and save money by avoiding excessive chlorine demand.
Use Bio-Dex Liquid Stabilizer & Conditioner to maintain proper levels and help chlorine last longer.
For more information, contact Bio-Dex Laboratories, Inc.,Dept.SI,4212W.InnovativeDr.,Phoenix,AZ85086. Telephone 800-617-3477. Online www.bio-dex.com.
RicoRock offers new vertical rock climber wall
The new Vertical Rock Climber Wall, from RicoRock
® , of Orlando, Fla., is designed for placement along the edge of a pool, for swimmers to climb, jump and splash back into the water.
Made of reinforced, light-weight cast concrete with a structural steel frame, the rock climber is 7-feet, 8-inches wide by 4-feet deep, and includes as a built-in feature, a cascading waterfall. RicoRock's rock climber wall is molded from natural rock for an attractive look.
For more information, contact RicoRock, Dept. SI, 327 Thorpe Rd., Orlando, FL 32824. Telephone 888-717-3100. Online www.ricorock.com.
Automatic Pool Covers
Inc. offers 'Invis-A-Rope'
Invis-A-Rope
™ , a new offering from Automatic Pool Covers, Inc., of Westfield, Ind., creates a look for automatic pool covers that increases aesthetic appeal.
Made from shadow gray fibers that blend and hide inside its low-profile track, Invis-A-Rope cannot be seen from as close as 4 feet away, making it ten times less visible than the white and multi-colored ropes that are standard in the industry.
Invis-A-Rope, available now on all of the company's pool covers, comes with a 5-year warranty when purchased with a new system.
For more information, contact Automatic Pool Covers, Inc., Dept. SI, 17397 Oak Ridge Rd., Westfield, IN 46074. Telephone 800-878-5789. Online www.apc-mfg.com.