Posted on
Speck Pumps all plastic, selfpriming'EcoMV'pump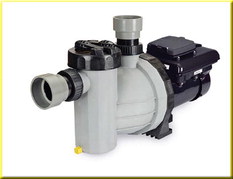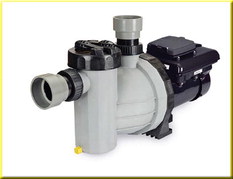 Speck Pumps-Pool Products, Inc., of Jacksonville, Fla., offers the BADU ® EcoMV all-plastic, selfpriming, energy-efficient pump that features a V-Green 270 variable speed motor from Century.
This pump, designed for durability, performance and quiet operation, comes with Speck's mechanical shaft seal that allows the pump, if mistreated, to run dry for up to one hour. The non-corrosive and chemical/UV resistant EcoMV can withstand temperatures of up to 175 degrees F.
Suction and discharge are equipped with 2-inch quick disconnect unions for efficient installation and maintenance. A lock ring with incorporated handles allows for convenient lid removal. The motor is easy to remove without disturbing the plumbing. Reusable O-rings are utilized throughout.
To enhance swimmer safety, the impeller's dielectric shaft sleeve provides absolute separation between pool water and electric parts.
The EcoMV comes with a two-year warranty on the motor and all pump parts, including normal wear of the mechanical seal.
For more information, contact Speck Pumps-Pool Products, Inc., Dept. SI, 8125 Bayberry Rd., Jacksonville, FL 32256. Telephone 904-739-2626. Online www.usa.speck-pumps.com.
The new Triton Pool Rail Series, from Saftron Manufacturing, LLC, of Bradenton, Fla., provides a custom look for enhancing the look of a pool or deck, without the high cost associated with specially designed rails.
The Triton Series is fully reinforced with marine grade aluminum and is made from Saftron's high impact polymer, providing long-lasting strength and durability.
Rails in the Triton Series, as with Saftrons' standard pool rails, are not required to be grounded or bonded when installed with Saftron's high impact polymer anchor socket. They are also guaranteed to keep their smooth bright finish and come with Saftron's five-year non-prorated warranty.
For more information, contact Saftron Manufacturing, LLC, Dept. SI, 6012 33rd St. E, Bradenton, FL 34203. Telephone 305-233-5511. Online www.saftron.com.
Safeguardagainstslipswith
Slip Resistant Solutions
Slip Resistant Solutions, Inc., of Leadville, Colo., offers anti-slip products Slip Zero and SolidStepCote to help protect swimmers from falls, an especial hazard if the coefficient of friction is not above the standard as identified by the Americans with Disabilities Act of a 0.60.
Slip Zero is unique in being a non-slip product that includes a neutralizer to stop the chemical reaction in a controlled manner, a valuable feature for maintaining aesthetic appeal. This microscopic chemical abrasion product for unsealed natural stone and tile decking will last over 15 years, with proper maintenance.
SolidStepCote, another coating offered by Slip Resistant Solutions, cures to a gritty texture, but is a clear non-slip sealer that allows the beauty of pool decking to show through.
Products from Slip Resistant Solutions, which exceed the standard coefficient of friction for enhanced safety, are available to treat many types of surfaces, including slippery concrete, travertine, river gravel, tile and others.
For more information, contact Slip Resistant Solutions, Inc., Dept. SI, 3787 Highway 91, Leadville, CO 80461. Telephone 800-741-4024. Online www. slipresistantsolutions.com.
'Krystal Clear' saltwater system attacks algae
The Krystal Clear ™ Saltwater System, by Intex ® , of Long Beach, Calif., features a copper ionization function that releases highly active disinfectant ions to attack algae more aggressively than chlorine or other packaged pool chemicals.
The amount of natural chlorine generated by the saltwater system is reduced by approximately 60 percent, resulting in softer cleaner water without the potential harsh side effects of packaged pool chemicals.
The system, designed for use with a maximum-sized pool of 15,000 gallons, requires a filter pump with a flow rate between 700 to 4,000 gph. A Ground Fault Circuit Interrupter shuts off the pump if electrical current is exposed to water. Included is an easy-to-use control panel.
To use, simply set the 24-hour timer for hassle-free operation.
For more information, contact Intex Corp., Dept. SI, 1665 Hughes Way, Long Beach, CA 90810. Telephone 800-234-6839. Online www.intexcorp.com.
Anderson's 'Leakalyzer' detects pool water loss
The Leakalyzer Water Loss Sensor, from Anderson Manufacturing Co., Inc., of St. Paul, Minn., enables rapid determination of pool water loss. Water level changes are measured to the 10,000th of an inch, enabling leaks to be identified in as little as five minutes.
The Leakalyzer is so sensitive that water loss of less than a gallon from a 20- x 40-foot pool is readily indicated. It also provides a calculation of how a measured water level change would impact the pool in inches and gallons of water lost per hour or per day.
The Leakalyzer makes it possible to provide Leak Status Certification for pool owners, insurance companies and realtors.
It can confirm a pool's leak status before investing time in extensive leak location procedures and confirm that leaks have been fixed at the completion of repair. It can also compare pump-on to pump-off water loss while at the pool to better direct leak location activities.
The latest version now includes the ability to save up to ten tests and download them to a computer for further analysis and reporting.
The Leakalyzer is covered by a generous guarantee of 30+ days. If not satisfied, Anderson will take it back.
For more information, contact Anderson Manufacturing Co., Inc., Dept. SI, 2885 Country Dr., #190, St. Paul, MN 55117. Telephone 800-348-1316. Online www.leaktools.com.
Hayward's solution to storing automatic cleaners
The PoolCleaner ™ Keeper, from Poolvergnuegen by Hayward Pool Products, of Elizabeth, N. J., is a handy product for storing an automatic pool cleaner.
The device, usable indoors or outdoors, prolongs cleaner life by preventing hoses from coiling and by keeping the cleaner safely out of the way. Some customers in cold areas prefer to use two PoolCleaner Keepers, one by the pool and one in the garage.
The PoolCleaner Keeper is easily mounted on a wooden, stucco or brick wall and can accommodate any automatic pool cleaner.
For more information, contact Hayward Pool Products, Dept. SI, 620 Division St, Elizabeth, NJ 07201. Telephone 707-566-0400. Online www. thepoolcleaner.com.
The product descriptions appearing in Show 'N Tell have been provided by the manufacturers.
Service Industry News neither endorses nor warrants the information.