Posted on
vious years where you could ….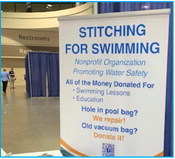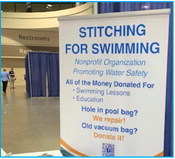 vious years where you could just choose which classes to attend. FSPA purposely scheduled block classes as a precaution in case show organizers needed to help identify any Covid cases after the show closed. FSPA's top priority this year was to have a safe and healthy show for the aquatic industry, said Mary Anderson, FSPA Education Program Manager, who organized the educational track this year. "Mary Anderson did an awesome job organizing this show," stated Brownfield, noting that she dealt well with the challenges brought about by trying to organize a trade show floor as well as classes during this pandemic.
Covid-19 did not stop companies from showing off their new wares, nor did it prevent the return of companies that have come to the show for many years. Ken Moyer with Brenntag, a pool chemical distributor, has been an exhibitor at this show since 1985. "The show is a little slower but that is to be expected this year. I want to support the industry by being here" Moyer said.
The Skimmie
® booth was packed and seemed to have the new cool product at the show.
Many pool techs were excited and purchased the product.
The husband and wife team who created this new product has never been employed in the pool industry. They invented The Skimmie
® from the issues they experienced as homeowners servicing their own backyard pool. She works in real estate and he works in the health care industry. The Skimmie
® was invented to help pool owners clean out their skimmers with ease, and to keep users from having to bend down or touch the debris in the skimmer.
The hook on the opposite side of the pole is designed to lift the skimmer lid and pull out the skimmer basket. The fine mesh net is designed to catch small debris and keep it out of the filtration system. The length of the pole allows the user to remain standing while cleaning out the skimmers.
The pool show always has some new and unique tool and this one seemed to be it this year!
It is still to early to know if there will be other in person pool shows in 2021, but the Florida Swimming Pool Association deserves a big congratulations for a job well done in presenting this year's in-person "Everything Under the Sun Expo.
Ken Scott, of Aqua Bliss Pools in, Deerfield Beach, Fla. has a new non-profit orgranization supporting children's free swim lessons
Facebook group 14 psi Pool Industry Lounge organizers Ken Scott & Jeff Hampe pose with 14psi member
Lauren poses at the 14psi booth
New Fun Tool — The ' Skimmie'