Posted on
3 dead, truck in pool after police pursuit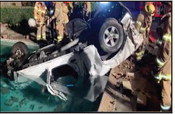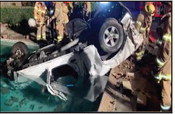 Three people were dead after a pickup truck fleeing the Garden Grove police struck another car, crashed through a wall, and landed upside down in a swimming pool.
The incident occurred at a home near the intersection of South Euclid Street and Orangewood Avenue in Garden Grove, California on March 12, 2021.
Police first spotted the truck, a Dodge Ram, speeding through a parking lot at just after 2 a.m..
An officer turned on his lights and sirens and attempted to catch the fleeing truck. The truck continued speeding until it struck another car, about two miles from where the officer originally spotted it.
According to a tweet from the Orange County Fire Authority, the truck also sheared a fire hydrant in the incident, which sent a geyser of water into the air.
The truck then smashed through a wall coming to rest upside down in a home's backyard pool.
Annette Agosta was asleep inside the home with her two roommates.
"It was just a spontaneous boom into the wall," Agosta said.
Renee Robinson, who was also asleep in the home, said the crash sounded like an explosion.
"Just heard this loud boom boom right at 2 a.m.. Came out here, there was a car upside down in the pool and the fire hydrant water was going everywhere. As soon as it happened a policeman jumped into the pool to try and open the [truck's] door. He said that he was already deceased," Robinson said The driver of the car hit by the truck was taken to the hospital and later pronounced dead.
About nine hours later, when fire officials managed to lift the pickup from the pool, they discovered a third man, dead inside the cab.
Although police did not identify any of the victims, later reports, identified the two men who died in the truck as Sal Fernandez, 34, and Joseph Mendoza, 28.
Family members identified the man struck by the fleeing pick-up as Michael Clugston, 39, of Anaheim. According to a GoFundMe, Clugston was on his way to work when he was killed.
Clugston's wife of nearly one year, Stefanie Clugston, said he didn't normally work Fridays but was putting in overtime because Stefanie lost her job last week.
Meanwhile, the women who live at the house said they are lucky to be alive and believe that the pool likely stopped the truck from slamming into their house.
'We won't be able to absorb it... My roommate says she'll probably have nightmares about this. You don't absorb it,' Agosta said.