Posted on
Protect pools from freeze damage with 'Lid' L Seal'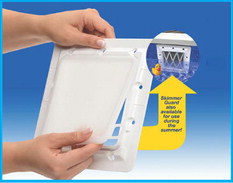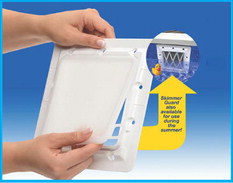 Lid'L Seal
™ , the new SkimSaver
™
compare it to the templates provided online. For more information, contact Aladdin Equipment Co., Dept. SI, 900 Sarasota Ctr. Blvd., Sarasota, FL 34240. Telephone 800-854-2466. Online www.aladdin1950.com.
Equipment Co., of Sarasota, Fla., saves water, money and time.
Lid'l Seal, with a recessed lid design that prevents shifting ice from removing the lid, makes it possible to drain the skimmer, not the pool in order to protect the skimmer from freeze damage. It also saves metal pool walls from corrosion.
Guaranteed not to leak, UV- and chemical-resistant, Lid'L Seal is good to minus 80 degrees F.
Lid'l Seal fits the most popular standard and widemouth above - and in-ground pool skimmers. To determine which model will fit an existing skimmer, simply measure the bolt pattern of the faceplate and , from Aladdin