Posted on
Duck … Duck … Duck … Problem?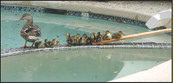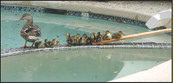 Water fowl can be a real problem for pool owners and operators at this time of year. Mating pairs return to backyards year after year. The mating season for ducks and geese is from December through March; the female will be laying her eggs from mid-March until early June. If the female has determined that a particular pool provides the ideal environment for raising her family, pool care can become a lot of trouble.
Some pool owners don't mind – those with kids may find them cute and fun to watch. And if the pool isn't going to be used during the early parts of spring anyway, some pool owners might think 'what's the harm?' But there are actually several reasons why it's a bad idea to let the fowl take up residence. A backyard with a pool is not actually a healthy environment for a water fowl family.
First, there is not likely sufficient food. Ducklings and goslings eat on their own from birth, mostly feeding on aquatic vegetation and insects they find by "dabbling" in the water. When the mother selected her nesting site, she was unaware the pool would not provide the nutrients she is accustomed to finding in a natural water setting. Without adequate food, the babies will starve unless they are actively fed by the homeowner. Some homeowners purchase specially ordered duck food to feed the birds, who will then stay for 8 to 12 weeks in the backyard until they can fly. But it is not a good idea for the birds to
Photo credit: [email protected] become so accustomed to humans that they lose their natural instinct to flee from predators, which puts them at risk in the wild.
Second, the baby waterfowl are not born waterproof, and they need to leave the water occasionally to dry off and preen. They may drown if they can't leave the water. Because pool decks are generally about six inches above the water – too high for the babies to jump out – the pool is inherently dangerous for them. Some pool owners install ramps to allow ducklings and goslings to escape.
Third, a chlorinated pool does not provide good drinking water. If they drink too much of that water, they could suffer irreparable kidney damage. That could mean dead birds in the pool.
From a pool care perspective, there are several obvious reasons not to allow them to build a home in the backyard.
First is the poop. Not only is it gross to find bird poop all over the decking and within the pool water, but it is not healthy for humans. Wild birds carry a lot of diseases, and many of those diseases are in their excrement. And the bigger they get, the more of that there is. While the chlorine in the pool will likely neutralize the waste while the bird family is still small, as they become bigger, the pool will become progressively more unhygienic and cloudier looking.
According to the CDC, duck and goose droppings may might contain germs such as E. coli, Salmonella, Campylobacter and Cryptosporidium. Ingesting water that contains these contaminants can make humans very sick – sometimes for weeks at a time.
Cryptosporidium is particularly noxious – and not just because of the severity of the illness, which includes stomach cramps, fever, vomiting and diarrhea – but also because of how difficult it is to kill it in a swimming pool. Cryptosporidium can survive for more than seven days in adequately treated water. Killing it requires hyper chlorination of 20 ppm chlorine for at least 8 hours – and that's with the cyanuric acid at 1 ppm, which will likely mean a partial drain.
Second, some bird species can become quite aggressive, especially geese. Geese are aggressive because they don't like to share their space with humans and other animals and they're protective of their young. They can be very mean and sometimes even seriously injure people.
If the birds decide the pool area is a safe haven, it can be really difficult to dissuade them. They have come to the pool because they need water and it appears to be safe from predators.
But, because of the reasons discussed above, it is a good idea to actively and relentlessly discourage them from nesting near a backyard pool.