Posted on
New Mexico hotel sues pool builder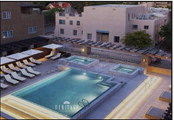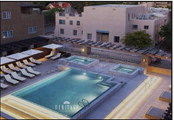 A lawsuit was filed in New Mexico's First Judicial District Court alleging that an architect, engineers and a construction company all failed in designing and building a rooftop pool at the Eldorado Hotel & Spa in downtown Santa Fe.
In the suit, filed March 2, 2021, Guadalupe Hotel Investment LLC says several Albuquerque firms involved in the project provided "incomplete [and] substandard" architectural plans, which caused "increased costs, numerous change orders [and] lost revenues to GHI," as well as damage to the ballroom ceiling.
Defendants include architecture firm Lloyd & Associates, engineering firms Bridgers & Paxton Consulting Engineers and Walla Engineering, and pool builder Hermanson Construction.
In March 2019, Heritage Hotels and Resorts, owner of Heritage Hotels, announced plans to build a rooftop swimming pool and wedding venue on the second floor. No completion date was announced at the time, but the complaint alleges the plan was to have the pool ready by summer 2019, although it was actually finished during summer 2020.
The complaint alleges the structural beams designed by Walla Engineering caused "severe cracking in the gypsum board ceiling in the ballroom" which forced the closure of the ballroom until repairs were made.
Furthermore, according to the complaint, Bridgers & Paxton failed to provide "necessary pool and sanitary drains with grease trap routing," which caused delays that prevented banquet services in the ballroom.
The suit also pleads Lloyd & Associates and Hermanson Construction breached their contracts.
"Hermanson Construction failed to perform its work in a timely manner and cooperate with other traders resulting in significant costs to the project in terms of change orders, project management, overhead expenses."
The suit also alleges negligence and unfair trade practices.
Guadalupe Hotel Investment seeks unspecified damages as well as triple damages "and/or disgorgement of all amounts paid to Hermanson Construction."
El Dorado Hotel, Santa Fe, New Mexico.
Photo credit: www.eldoradohotel.com