Posted on
Survey shows public pools popular this summer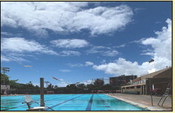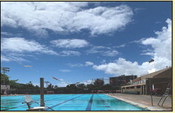 With summer just around the corner, public pools re-opening, and more people getting vaccinated, a growing number of people plan to go swimming this season. A recent survey conducted on behalf of the Pool and Hot Tub Alliance found that 70% of Americans plan to swim in a pool this summer, up from 52% last year. But with more swimmers at the pools, the risk of people spreading COVID-19 also increases, and the survey found that a little more than half – 52%, worry about COVID-19 at public pools, and within this group, 82% are especially concerned about large crowds at the pool.
Although the CDC says that there's no evidence that COVID-19 spreads to people in water, large crowds are another story, and social distancing has played a role in mitigating the spread of the virus among the unvaccinated.
But with a growing number of Americans getting vaccinated (41.4%, according to Our World in Data), more people may feel it is safe to take the plunge.
Rowdy Gaines, a three-time Olympic gold medalist and member of the International Swimming Hall of Fame has been working with the PHTA to educate swimmers about COVID-19 safety, as well as general health and hygiene information for summer pool visits.
"It's finally time to get back in the water, as long as we're practicing socially safe behaviors. This summer, as more Americans make plans to swim in pools, it's important for us to keep safety in mind by maintaining a social distance from others, even in the water and on the pool deck," Gaines said.
According to the survey, most Americans (57%) want public pools to limit capacity above anything else. And 59% of already-vaccinated Americans said they would still require limited pool capacity to swim in a public pool.
The CDC recommends setting a clear COVID protocol at each establishment, such as determining cleaning procedures, when employees should stay home, and what to do in case of exposure -- and staying updated with the latest CDC guidance on operating public pools, hot tubs, water playgrounds during COVID-19.
Sabeena Hickman, PHTA President and CEO said that the study shows that Americans are cautiously optimistic about the prospects of swimming safely in public pools or while vacationing at a resort pool.
"Together, by following proper safety protocols, we can all enjoy the 2021 swimming pool season," Hickman said.
The 2021 Healthy Pools survey was conducted by Sachs Media on behalf of the Pool & Hot Tub Alliance. The survey interviewed 2,000 American adults online April 9-10, 2021, with the intent to measure perceptions and behaviors related to swimming pools and public health. The survey had a margin of error of +/- 2.2% at the 95% confidence level, and results were nationally representative of American adults in terms of age, race, gender, region, and household income.