Posted on
Pegasus Cover Company offers inground vinyl liners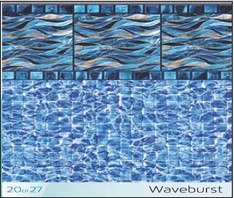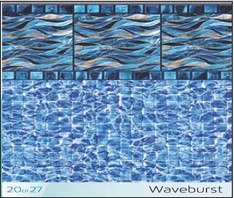 In-ground Swimming Pool Liners, from Pegasus Cover Co., of Branchburg, N. J., are known for their long-lasting beauty. FIT cutting-edge technology, used to design the company's precision liners, also ensures that they are a perfect fit every time.
The material used is made from virgin vinyl Poly-Vinyl Chloride (PVC) sheeting that combines high strength with durability and low-temperature flexibility. Various additives such as inhibitors for mildew, mold and algae improve the life of the vinyl by increasing its resistance to chemical detergents, brittleness and punctures.
Pegasus virgin vinyl liners are offered in 20- or 27-mil thicknesses, with an extensive line of patterns from which to choose. A 48-hour Silver Bullet Delivery Service is available on most in-ground specials.
Pegasus Cover Co. has been manufacturing swimming pool liners for over three decades. It is a family-run business that takes pride in maintaining highest-quality manufacturing standards and products, as well as providing excellent customer service.
For more information, contact Pegasus Cover Co., Dept. SI, 11 Readington Rd., Branchburg, NJ 08876. Telephone 908-707-1122. Visit the company online at www.pegasus-products.com.
The Pool Blaster Pro® 1500, from Water Tech Corp., of E. Brunswick, N.J., is a battery powered pool cleaner that offers professional-grade pool cleaning for commercial pools. Now engineered with the powerful P40 Heavy Duty motor box, this heavy-duty vacuum is able to capture debris of all sizes.
The Pool Blaster Pro 1500 works independently from the pool's filtration system and requires no hoses or cords. Light-weight, self-contained and hand-held, it simply attaches to a standard pool pole and features multiple vacuum heads for cleaning a variety of poolbottom surfaces.
The unit comes with two rechargeable lithium ion batteries that each provide up to one hour of run time, giving the Pro 1500 up to two hours of vacuuming time.
Social Media links: https://www.youtube.com/user/TheWatertechCorp https://www.instagram.com/watertechcorp/ https:// www.linkedin.com/company/watertechcorp/ For more information, contact Water Tech Corp., 10 Alvin Ct., Suite 111, E. Brunswick, NJ 08816. Telephone 800-298-8800. Visit the company online at www.watertechcorp.com.
SeaKlear's 'Summer Pill" great for inbetween visits
The all-in-one formula of SummerPill
® , a SeaKlear product from NC Brands, of Lawrenceville, Ga., makes summer maintenance easier and more efficient than ever.
SummerPill's patented pre-measured release delivery system effectively improves the quality and appearance of pool water. Treating up to 30,000 gallons, it will reduce oil and lotion scum lines, clarify water, improve filter efficiency and can be used with all types of sanitizers.
SummerPill is recommended for busy service pros looking to offer an easy between-visits solution to their clients.
For more information, contact NC Brands L.P., Dept. SI, 1725 N. Brown Rd., Lawrenceville, GA 30043.Telephone 800-753-1233. Visit the company online at www.aqua-pill.com
Allied Computer Controls offers an electric spa package
The SMT 170, from Allied Computer Controls, of Azusa, Calif., is a 1 Kw T-style Spa Heater with single-speed pump and power cord/GFCI 15A.
The SMT 170 features smart water temperature management, pressure-switch protection, high-limit sensor failure, automatic pump time-out, light outlet, diagnostic LED indicator and pressure-switch detection.
Other features include overheat condition, temperature control dial, electronic temperature and overheat sensors, freeze protection and programmable filtration cycles.
Allied Computer Controls was established in 1982 to provide intelligent electronic controls for the spa industry. All products are designed and manufactured in-house. Raw materials only are purchased, giving the company total control over product quality.
For more information, contact Applied Computer Controls, Dept. SI, 701 W. Foothill Blvd., Azusa, CA 91702. Telephone 800-679-7727. Visit the company online at www.acc-spas.com.
'Thru-the-wall skimmer, return kit from JED Pool Tools
JED Pool Tools, of Scranton, Pa., offers the Thru-the-wall Skimmer and Return with Complete Accessory Kit for keeping pools free of leaves and debris.
Made from heavy-duty ABS plastic, the assembly includes a skimmer body, face plate, U-gasket, snapin and removable weir, basket with clip, lid, VAC plate, stainless steel screws, quick-disconnect pipe connection, adaptor hose fitting, discharge fitting, 1- to 2-inch stainless steel hose clamp and instruction sheet.
The skimmer, which fits standard wall knock-outs, is available in two sizes.
For more information, contact JED Pool Tools, Dept. SI, 1100 Penn Ave., Scranton, PA 18509. Telephone 570-344-4137. Online www.jedpooltools.com.
'Slide Coat' high-gloss coating for pool slides
Slide Coat, from Ramuc Pool Paint, of Rockaway, N. J., is a high-gloss coating for slides designed to provide a tough, durable finish that is both chemical and abrasion resistant.
Slide Coat promotes slippage, restoring old slides as well as sealing new backyard features. This fast cure product is designed to optimize leveling and wetting properties, creating a smooth surface.
Ideal for concrete and fiberglass slides, Slide Coat is UV resistant and VOC compliant. Self-priming, this product is ready for use in 24 hours with a final cure in seven days.
E-literature: https://www.ramucpoolpaint.com/ media/31503/ramuc-slide-coat.pdf For more information, contact Ramuc Pool and Deck Paint, Dept. SI, 36 Pine St., Rockaway, NJ 07866. Telephone 800-745-6756. Visit the company online at www.ramucpoolpaint.com.
Concrete modular water fountain from Rico Rock
Rico Rock, Inc., of Orlando, Fla., now offers a compact, lightweight, cast concrete modular water fountain that is easily mortared together to create a consistently beautiful waterfall for spas.
Unlike real stone that is heavy and can be hard to manipulate into a functional, aesthetically pleasing fountain, this modular fountain package is designed to always look great—without the worries of leaks or awkwardly stacked stones that aren't aesthetically pleasing.
The fountain comes with natural cobbles to cover mortar joints and base pieces have a 3-inch lip so the water fall looks "built-in."
Social Media links: https://www.facebook.com/ ricorck, https://www.instagram.com/ricorockinc/ For more information, contact Rico Rock, Inc., Dept. SI, 327 Thorpe Rd., Orlando, FL 32821. Telephone 888-717-3100
Try Blue Square's 'Abyss' canister for pool, spa debris
The Abyss
™ Containment Canister, from Blue Square Manufacturing, of Chandler, Ariz., offers maximum storage capacity for more efficient handling of pool and spa debris.
By design, the heaviest debris heads straight to the bottom. There is no interrupted water flow and no interference for the pool equipment. The extra length of the canister allows for less frequent cleanings, and the basket slides out while keeping debris contained in the process, so there is no mess.
Installed as part of a pool's equipment pad, Abyss is very accessible; and due to the see-through lid, contents are clearly visible. It is also easily winterized.
Compared to a typical installation, the higher debris storage capacity of Abyss can result in less time and effort spent on maintenance.
Formoreinformation,contactBlueSquareMfg.,Dept. SI, 3344 N. Nevada St., Chandler,AZ 85225. Telephone 800-277-4150. Online www.bluesquaremfg.com.
The product descriptions appearing in Show 'N Tell have been provided by the manufacturers.
Service Industry News neither endorses nor warrants the information.