Posted on
Get shock treatments from Phoenix Products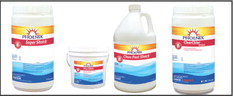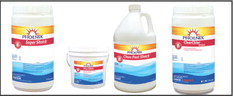 Phoenix Products Co., of Terryville, Conn., a family-owned business since 1982, formulates high quality chemical products for the pool and spa industry, including a variety of shock treatments.
Phoenix Oxy-Clean is a non-chlorine granular shock treatment that removes organic waste, destroys chloramines, improves water clarity and removes contaminants that can cause cloudy water and chlorine odor. One pound treats 10,000 gallons.
Phoenix Clearchlor Lithium, with 35 percent available chlorine, produces sparkling water simply and easily. After filling or at the start of each season, initially, two 8-ounce cups per 5,000 gallons of pool water is added to develop the proper chlorine level of 1-2 ppm.
Phoenix Cloro Pool Shock, with12.5 percent available chlorine, is a liquid treatment that can be used with any pool surface. One pint will treat 10,000 gallons of pool water.
Phoenix Super Shock, with 65 percent available chlorine, is a granular shock treatment that is ideal for white plaster pools. Two ounces treats 10.000 gallons of pool water.
For more information, contact Phoenix Products Co., Dept. SI, 55 Container Dr., Terryville, CT 06786. Telephone 860-589-7502. Online www. phoenixproductsco.com.
The product descriptions appearing in Show 'N Tell have been provided by the manufacturers.
Service Industry News neither endorses nor warrants the information.