Posted on
A new era: Department of energy pool pump regulations in effect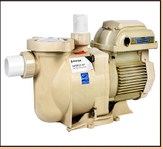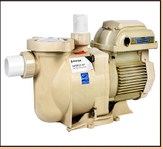 New Department of Energy (DOE) pool pump regulations went into effect on July 19, 2021, meaning more pool owners will soon be switching to variable speed (VS) pumps on their next replacement as their single-speed pool pumps fall out of compliance. While some single speed pumps meet the DOE regulation, they may not have the performance needed.
With the new regulations in hand and performance needs top of mind, many pool owners may be considering a VS or variable speed and flow (VSF) pump for the first time and, as a result, may be unaware of the real benefits that come along with installing a VS pump. Singlespeed pumps are the least expensive pump option upfront, so, having to switch over to a more costly piece of equipment may put a sour taste in customer's mouths. Dealers have the opportunity, however, to communicate the benefits of a VS pump to their customers including the long-term cost savings, energy efficiency and improvements to a pool's quality that can be achieved.
Ensuring Compliance & Beyond The first question pool owners may ask when learning about the new regulations is, "So, what's actually changing and why?" Here's the gist: On July 19, 2021, most inground, single-speed pool pumps fell out of federal compliance as new regulations set a minimum energy efficiency standard of pool pumps, meaning most single-speed pumps won't make the cut.
In addition to setting a new energy minimum, the DOE also made changes to how manufacturers label products. Of those items listed on the label, one is most known by professionals: the weighted energy factor (WEF). WEF is a measure of energy efficiency, like miles per gallon (MPG) in a car, only for pools.
But, as dealers and service people know, energy savings and performance go beyond measuring WEF. Two additional considerations pool owners should keep in mind when identifying energy efficiency for a VS pump are the total horsepower (THP) and hydraulic horsepower (HHP). While there are many acronyms and terms to keep straight, understanding the following components will be key to evaluating a pump and its performance.
- WEF: Measure of energy efficiency. The higher the WEF, the more efficient the pump. WEF is required to be labeled on a pump.
- THP: Measure of the total horsepower created at the motor shaft, not at the wet-end. This represents the potential output, not the actual output. THP is required to be labeled on the pump.
- HHP: Measure of pump's performance. The amount of water your pump can push to, and through, the pool. This is not equivalent to motor horsepower and is not required to be labeled on the pump, but some manufacturers, like Pentair, do put it on their products.
Tackling poor performance and high energy costs
Behind home heating and cooling, pool pumps can be the second highest energy consumer in the house, according to Energy Star. With single-speed pumps, there are only two settings: on or off. So, while these pumps are the least expensive to purchase, when on, they run at full speed which can cause excess wear and tear on equipment. And when they turn off to save energy, water is left stagnant and can become unsanitary.
In addition to high energy costs, pools with poor pump performance can face some unfortunate consequences such as unsanitary pool conditions, poor water quality, increased wear and tear, more frequent filter cleanings, shorter pump lifetime and a need to use more chlorine. Luckily, many of these challenges can be addressed with VS and VSF pumps.
By incorporating VS pumps, pool
Pentair, Superflo VST owners will see energy and cost savings. A variable speed pool pump could save homeowners up to 90% on their energy costs compared to conventional single- or- two-speed pool pumps*. In addition, VS pumps offer higher performance, less noise, and are longerlasting compared to single-speed pumps. All these factors combine to create a better pool experience with improved circulation and less wear and tear on equipment.
Selecting the Right DOECompliant Pool Pump for Your Pool
Pool owners need to make an educated decision on the next pump they put in their pool. Dealers should have conversations with their customers about the new DOE regulations and their unique needs when it comes to selecting the right pump. The following questions can be used as thought starters for those conversations.
1. What size pump is needed? The pump will need to be able to pump all the water in your pool through the filter in no more than 8-10 hours.
2. Will the pump support additional features such as a spa or water feature? The extra features customers love about their pool may require a larger pump.
A variable speed and flow pump offers more flow control options as well.
3.Where will the equipment be located? If it is close to the house or near a neighbor, the quiet operation of a VS pump may be a key selling point.
4. What is the upfront cost and what are my potential energy savings?
While there are multiple pumps on the market, dealers can help customers navigate the process and find the best solution for their pool and their needs. With new regulations in hand, it's time for pool owners to investigate VS pool pumps and the benefits of adding auto-adjust flow technology available from Pentair. Not only will a VSF pump meet the DOE regulations, but it offers pool owners the ease of cruise control. Customers can set their flow rate to automatically adjust speeds to maintain flow, so they can spend less time worrying about their pool and more time enjoying it.
*Source: "Make A Savings Splash With An Energy Star
® Certified Pool
Pump." www.energystar.gov
Pentair's Intelliflo VST