Posted on
Pentair's 'ChemCheck' to monitor pool water balance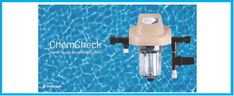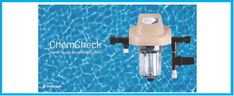 The ChemCheck
™ Water Quality Monitoring System, from Pentair Ltd., of Sanford, N. C., provides peace of mind to pool owners concerned about fluctuations in water chemistry.
ChemCheck keeps pool water under close inspection, monitoring temperature, pH and sanitizer levels and making sure all is in balance. The pool's sanitizing potential is measured using Oxidation Reduction Potential, which analyzes the power of the sanitizer to keep a pool in pristine condition.
If the system detects anything amiss, a real-time alert is sent to the owner's smart phone. It also provides ideal chemical dosage recommendations. By catching issues as they arise, ChemCheck makes it possible to deal efficiently with potential problems for effortless water quality management.
For more information, contact Pentair Ltd., Dept. SI, 1620 Hawkins Ave., Sanford, NC 27330. Telephone 800-831-7133. Online www.pentair.com