Posted on
Shopping paint? Consider Supreme's Platinum Ultra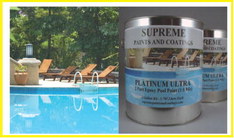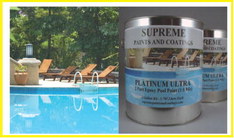 Platinum Ultra, from Supreme Paints and Coatings, of Melville, N. Y., is the company's best industrial grade 2-Part Epoxy Pool Paint. With its heavy duty 1:1 mix ratio, It has a much higher solids by weight content than most other pool paints and epoxy.
Platinum Ultra leaves a surface with a smooth finish, and because of its solids content, along with high-quality ingredients, no primer is necessary before application. It can be applied over existing pool coatings such as acrylics, epoxy and rubber based coatings, as well as on all types of bare concrete, plaster, gunite and fiberglass.
Platinum Ultra, designed to provide a longer lifespan than other pool paints, also dries quickly and resists fading by chemicals or abrasion. It is designed for maximum protection against algae, automatic pool cleaning machines, saltwater and chlorine.
At 93 percent solids, Platinum Ultra can also be used as a cost-effective alternative to re-plastering a pool. It provides long-lasting beauty as well as durability and leaves a "shield' of UV protection on the surface to protect against the sun and harsh weathering effects.
For more information, contact Supreme Paints and Coatings, Dept. SI, 68 S, Service Road Ste.100-97, Melville, NY 11747. Telephone 866-232-1741. Online www.supremepaintsandcoatings.com.