Posted on
Electric pool shock sends 3 to hospital at Maine camp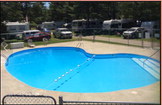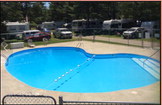 Two children and an adult were hospitalized with serious injuries after an electrical shock at a campground swimming pool. The incident occurred at the Cold River Campground in Eddington, about five miles from Bangor, Maine, on August 9.
The Penobscot County Sheriff's Office said they responded to a report of three individuals who were injured by an electrical shock while in the pool.
They said that several bystanders riskedtheirownlivesjumpingintohelp.
The Eddington Fire Department and Penobscot County Sheriff's Office are investigating the incident, along with the Maine Electrician Examining Board and Versant Power.
The pool has been closed until further investigation and assessments can be completed. The investigation remains active at this time, and investigative records remain confidential.
Cold River campground pool