Posted on
Acquisitions consolidate pool manufacturers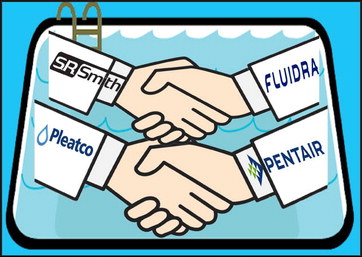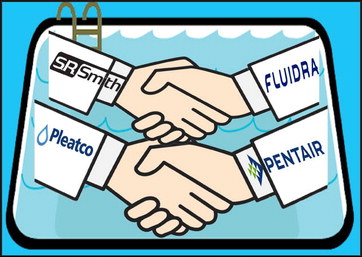 Pleatco Filtration and S.R. Smith bought by industry giants Pentair and Fluidra
Pentair and Fluidra, two of the largest pool and spa equipment manufacturers, have expanded their line of offerings with the acquisitions of Pleatco Filtration and S.R. Smith respectively.
Fluidra, a global swimming pool equipment manufacturer, based in Spain, announced that it has acquired U.S.based S.R. Smith, a major supplier of pool deck equipment, for $240 million.
Pentair, a U.S.-based international pool and spa equipment manufacturer, has finalized an agreement to purchase Pleatco Filtration, major manufacturer of DE and cartridge filters, as well as clean air technologies, headquartered in Louisville, Kentucky.
With the acquisition of S.R. Smith, Fluidra says its sales should rise between 37% and 42% this year, up from 35% to 40%, while its earnings per share should increase to between 83% to 93%, up from 80% to 90% expected previously.
The acquisition, announced September 1, solidifies Fluidra's status as one of the dominant players in the booming pool and spa equipment industry.
Amidst the pandemic, the pool and spa industry is one of the few sectors for which sales and profitability have spiked, and Fluidra has positioned itself to ride that wave from its crest all the way to shore.
Founded in 1932, S.R. Smith is a leading global manufacturer specializing
Fluidra and Pentair continue to expand their product offerings by purchasing specialty manufacturers of pool deck equipment and accessories and water filtration products. in commercial and residential pool deck equipment and accessories. Fluidra said that acquisition of S.R. Smith, which makes starting blocks, rails, ladders, slides, diving boards, ADA-compliant lifts, thermal cover systems, and in-pool furniture, is complimentary to Fluidra's, and will accelerate the company's growth in North America.
Headquartered in Canby, Oregon, S.R. Smith operates manufacturing facilities from multiple locations in the United States and Australia.
Their products are distributed around the world, with focus on the United States, Australia, Canada, and Europe.
The acquisition was valued at $240 million. Fluidra is raising its 2021 guidance based on the expected positive contribution from the S.R. Smith acquisition as follows:
•Sales growth will increase from 3540% to 37-42%.
•EBITDA margin will stay between 25% to 25.5%.
•Cash EPS growth will increase from 80-90% to 83-93%.
According to Bruce Brooks, Chief Executive Officer of Fluidra, the company's ultimate goal is to be the best partner in the industry for their customers, and this latest acquisition of S.R. Smith propels them closer to that goal.
"S.R. Smith is an exceptional company with a talented team and stellar reputation. Their specialized expertise and comprehensive portfolio of products will accelerate our future growth in the commercial and residential pool segments and will ultimately allow us to better serve our customers in North America and around the world," Brooks said.
Following the acquisition, S.R. Smith will continue to operate independently from its Oregon headquarters.
Also announced this September, Pentair has entered into an agreement to buy Pleatco from its parent company, Align Capital Partners, for $255 million.
Pentair's purchase marks an effort by the company to expand its footprint in aftermarket water and air filtration.
Acquisition of Pleatco provides Pentair with an expanded range of filtration products through both Pentair's and Pleatco's distribution channels and is a milestone in the history of Pleatco.
Since its start in 1950, Pleatco has established a reputation for being a leader and innovator in the pool and spa industry and in recent years has also successfully forged into the industrial air filtration arena.
This acquisition thus builds Pentair's industrial air portfolio, with Pleatco's range of fabric filters for dust collection and pollution-control systems.
"We are excited to expand our presence in the aftermarket filtration space with an enhanced product offering that advances our objective to offer an effortless pool experience for consumers," said John Stauch, Pentair President and CEO.
Pleatco was acquired by Align Capital Partners in 2017, which doubled the company's revenue and increased it employee base from 180 to more than 380 employees during its ownership period.
In 2019, Pleatco LLC was rebranded as Pleatco Filtration, following its merger with former brands APEL, Milton Manufacturing, and TVS Filters, broadening Pleatco's offerings beyond pool and spa filtration technologies.
"Pleatco has been truly transformed through an aggressive series of investments in people, systems, facilities, and products," said Rob Langley, a managing partner at ACP. "Additionally, the key tenets of the business that attracted us to the investment years ago are still driving the company forward today.
Pleatco benefits from the recurring nature of its highly engineered, consumable products that are focused on serving pool, spa, and industrial air customers' aftermarket needs."
Pleatco President Seth Soltow said that since he joined the team in 2018, Pleatco's recent developments have been incredible.
"The company today is well-positioned for continued growth alongside the additional scale and resources that Pentair provides," Soltow said The transaction will be $255 million in cash, with customary adjustments.
Pentair has estimated that Pleatco will generate $95 million of annual revenue in 2021.