Posted on
Check out our latest 'Horror File' entry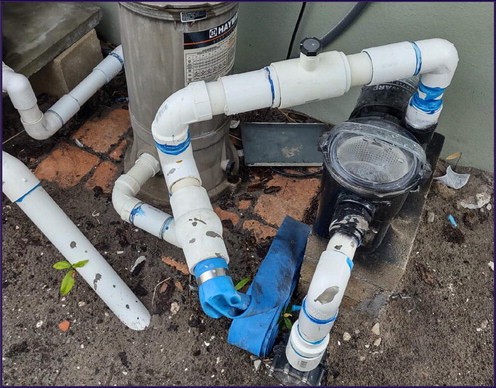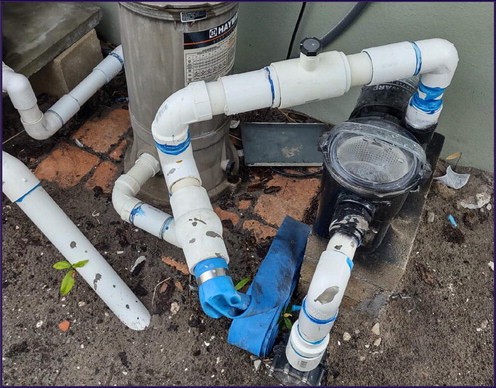 CAN YOU TOP THIS?
Welcome to the latest edition of our popular "Can You Top This?" column, featuring the newest entry in the Service Industry News "Horror File. "
This issue's entry comes to us from Chad Weingart in St. Petersburg, Florida.
"These poor people hired somebody to put this pump in a few months ago.... And wouldn't you know it, it never worked right; above ground pump for an inground pool. they had to prime it everyday", writes Chad.
" Luckily I clean the pool next door and my customer gave them my number to help them out. This job wasn't that big but this lady was so ecstatic when she saw the new pump and plumbing, I love that reaction. I've gotta go back Friday to wire in an actual whip, I didn't realize that they just used the 14 gauge stranded cord that came with the aboveground pump when I first looked at the job, it will work for now though, pumps only going to run for an hour and shut off until Friday because I did a super flock treatment on it."
A rather ingenious installation Chad. Other publications like to print lots of pretty pictures of beautiful pools, spas and well engineered installations. At Service Industry News, we would rather go behind the scenes and take a closer look at the type of stuff our readers encounter everyday — cracked tiles, spaghetti plumbing, rats in heaters, cars in the pool and more! When you are out in the field and you see something that doesn't look right, send us an email along with a picture and a brief description: Attention Horror File, [email protected]