Posted on
Anderson's 'Leakalyzer' detects pool water loss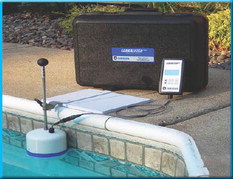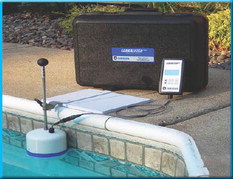 The Leakalyzer Water Loss Sensor, from Anderson Manufacturing Co., Inc., of St. Paul, Minn., enables rapid determination of pool water loss. Water level changes are measured to the 10,000th of an inch, enabling leaks to be identified in as little as five minutes.
The Leakalyzer is so sensitive that water loss of less than a gallon from a 20- x 40-foot pool is readily indicated. It also provides a calculation of how a measured water level change would impact the pool in inches and gallons of water lost per hour or per day.
The Leakalyzer makes it possible to provide Leak Status Certification for pool owners, insurance companies and realtors.
It can confirm a pool's leak status before investing time in extensive leak location procedures and confirm that leaks have been fixed at the completion of repair. It can also compare pump-on to pump-off water loss while at the pool to better direct leak location activities.
The latest version now includes the ability to save up to ten tests and download them to a computer for further analysis and reporting.
The Leakalyzer is covered by a generous guarantee of 30+ days. If not satisfied, Anderson will take it back.
For more information, contact Anderson Manufacturing Co., Inc., Dept. SI, 2885 Country Dr., #190, St. Paul, MN 55117. Telephone 800-348-1316. Online www.leaktools.com.