Posted on
FROG @ease floating system sanitizes easily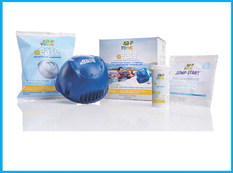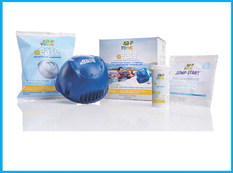 The FROG
® @ease
®
® feel it produces.
For more information, contact King Technology Inc., Dept. SI, 530 11th Ave. South, Hopkins, MN 55343. Telephone 800-222-0169. Visit the company online www.frogproducts.com.
Floating System, from King Technology, Inc., of Hopkins, Minn., combines sanitizing minerals with SmartChlor bacteria two ways, with up to 75 percent less chlorine.
[email protected] self-regulates for continuously clear water. When more sanitizer is needed, it delivers automatically. The mineral cartridge lasts up to four months and the SmartChlor cartridge lasts up to four weeks; when empty, the unit flips over.
Unlike dichlor, FROG @ease contains no cyanuric acid, which, according to the CDC, is not recommended for hot tubs.
With FROG @ease, shock is required only once a month. It is easy on hot tub surfaces, produces less odor and uses single color match for easy reading with FROG @ease Test Strips. There is no need for constant monitoring or mixing of chemicals and no need to prematurely drain the hot tub.
Customers will appreciate the low maintenance requirements of FROG @ease and the soft, relaxing Fresh Mineral Water
® technology to kill