Posted on
National Water Safety Conference, Feb. 13-16, - 2023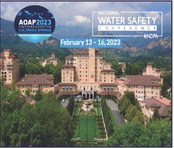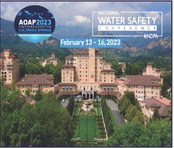 National Water Safety Conference, Feb. 13-16, 2023
Schedule at a glance Monday February 13: NDPA Keynote from 9:45 to 11:15 a.m.; Breakout sessions 11:40 a.m. to 3:10 p.m.; NDPA Awards Ceremony 3:30 to 4:40 p.m.
Tuesday February 14: Breakout sessions from 9:15 am to 5:20 p.m.
Wednesday February 15:
Breakout sessions from 9:30 a.m. to 12:10 p.m. Exhibit Hall from 12:30 to 3 p.m.
Thursday February 16:
Breakout sessions from 8:00 to 10 a.m.
Join the National Drowning Prevention Alliance at their 2023 National Water Safety Conference because as they say: drowning won't stop; neither will we.
Registration will open for the conference mid-December taking place at Broadmoor Hotel in Colorado Springs, Colorado, from February 13 to 16.
Attendees are guaranteed to gain valuable insight on the best practices, latest research, newest technology, and critical knowledge covering all areas of water safety and drowning prevention. With the help of premier speakers and inspiring partners, the NDPA Educational Conference is undeniably the best opportunity to grow both personally and professionally while at the same time developing life-long relationships and connections in the quest for safer water.
The NDPA welcomes you to both the great city of Colorado Springs as well as the mission to reduce drowning and aquatic injury around the world. The conference is also offering a virtual only option for those who prefer online attendance.
The full breakout session schedule is as follows:
Monday from 11:40 a.m. to 12:50 p.m.
• The Legacy of Drowning: Surviving Siblings Tell Their Story
• #DrowningCPR
• A Whole Community Approach to Drowning Prevention
• Sharper Focus, Greater Impact
• Lessons from our International Learn to Swim Outreach Trips
Monday from 2:00 to 3:10 p.m.
• From Broken to Brave
• Pediatric Drowning Prevention and Pre-Hospital Treatment
• Engaging Stakeholders
• ONLINE WATER SAFETY IS FUN!
• Examining Policy Achievements for Drowning Prevention in Australia
Tuesday from 9:15 to 10:25 a.m.
• Teaching Water Safety: An Out of the Classroom Experience
• USA Swimming's Lesson Network Reboot
• Water Safety Champion "You and Your Community" Successes
• Boater Safety
• THE OTHER A: Helping Swim Teachers Improve Their Understanding of ADHD
• Building a Lifesaving Relationship with Water In Pool Demo
Tuesday from 10:45 a.m. to 11:55 a.m.
• Families United Panel
Tuesday from 1:15 to 2:25 p.m.
• Innovative Strategies: Water Safety Education for Children and Families
• Lane Lines in Your Brain: Breaking Down Old Motor Learning Myths for Improved Instruction
• Advocacy & Legislation Workshop – Part I of II
• Daily Waterfront Assessment for Safety and Prevention Planning
• Anxiety and Discomfort Learning to Swim
Tuesday from 2:45 to 3:55 p.m.
• Aoife's Drive to Save Lives
• The Swimstyler Programme – The Importance of Learning to Swim Properly
• Advocacy & Legislation Workshop – Part II of II
• Bridging the Gap Between the Pool & Open Water
• One Size Doesn't Fit All: How to Adapted Aquatic Instruction for Individuals with Disabilities
Tuesday from 4:15 to 5:20 p.m.
• Water Baby Culture-Is it What is Safest for our Children?
• One Small Drop: The Importance of Mobile Swim Instructors in Your Community Water Safety Partnerships
• "Every Child a Swimmer" Legislation & Scholarship
• Ditch "Break the Grip of the Rip" and Flip, Float, Follow
• Unraveling the Significance of Drowning in Autism
Wednesday from 9:30 to 10:40 a.m.
• Further Adventures of Effective Partnering and Education for Prevention
• Aquaticity: A New Method for Assessing Swim Skills
• Enhancing Swimmer Safety – Combining Artificial Intelligence (AI), Video Analytics & Humans
• The Neglected Domain of River Drowning Prevention: The Australian Experience
• Impediments to Victim Recognition: A Review of the Literature
Wednesday from 11 a.m. to 12:10 p.m.
• Texas Home Pool Safety Barrier and Device Use Survey Results
• Sociodemographic Factor's Relationship with Drowning Prevention Strategies
• Panel Discussion on Marketing & Diversity's Intersection in Public Health Messaging
• Drowning Prevention Strategies Utilized in the Hawaiian Islands Ocean Environment
• "In The Air Tonight" (Drowning Physiology)
Thursday from 8:45 to 9:55 a.m.
• A Discussion on the Commercial Crises For more information and to register online go to www. watersafetyconference.com or call 800-757-9270.