Posted on
Look to Hydroquip for 2-speed self-priming pumps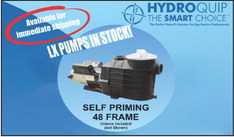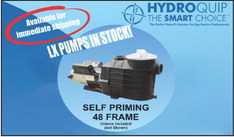 Hydro-Quip of Corona, Calif., is the nation's oldest manufacturer of Spa Parts and Portable Spa Equipment including Balboa Controls and Parts, Gecko, Pneumatic, Therm Products Heaters, Pumps and more.
LX self-priming pumps are a recent addition to the Hydro-Quip line and we offer a wide variety of 1 and 2-speed pumps in both 48 and 56-frame, and in horsepower options ranging from 2 HP to 5 HP.
Hydro-Quip continues to provide innovative, dependable and high quality portable spa and hot tub retrofit controls to the industry – now with more than 40 years of history and experience.
For more information contact, Hydro-Quip at 510A North Sheridan St., Corona, CA 92878. Telephone 951-273-7575. View Hydroquip's online catalog at www.hydroquip.com
Aqua Combs from Mi-Way, Inc. of Sarasota, FLcome in two different styles one to clean pools, the other for spas, swim spas and hot tub cartridge filters. The Aqua Comb is designed too fully clean filters in 3-5 minutes using less time and water. They attach to a garden hose and the comb opens the filter pleats, allowing the water spray to remove all the built-up debris.
The combs reach deep into the pleats and digs out the bugs, vegetation and other debris that accumulates, also is great for getting dog hair out of the filter!
Fully cleaning the filter prolongs the life of the equipment, reduces energy use and aids water chemical balance. Aqua Combs will help avoid compression and compaction of dirt and debris on the cartridge filter, making them last longer and easier to clean. The Aqua Comb is also great to include in either a new pool, spa or hot tub start up package, making the new customer happy! Aqua Combs are 100% made in the USA!
For more information contact, Mi-Way, Inc. 7642 Saddle Creek Trail, Sarasota, FL 34241.Phone 941922-7786. Online at www.aquacomb.com.
Solenis offers 'CCH Elite' feederforcommercialpools
Solenis of Alpharetta, Georgia, is the parent company of Innovative Water Care and the makers of CCH
Elite feeder — a high capacity erosion (HCE) feeder that is compact and lightweight with a modular design.
The feeder uses CCH calcium hypochlorite tablets that work in conjunction to produce a fresh concentrated liquid chlorine solution for clean and sanitized water.
This innovative feeder system is easy to maintain and service with a flexible design that allows for easy integration for small to large commercial pools.
The CCH
product line includes CCH Endurance, pH Control, and CCH Auto Feed Systems. Visit the company online for details on these systems.
For more information contact, Solenis Inc., 1400 Bluegrass Lakes Parkway Alpharetta, GA 30004. Phone 800-222-2348. Online www.solenis.com.