Posted on
Another bad actor contractor in Arkansas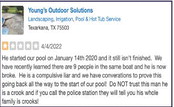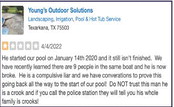 The Arkansas Attorney General's office says it has discovered a bad actor pool contractor and is suing the man for violations of the state's Deceptive Trade Practices Act.
Richard Young of Texarkana, Texas, and doing business as Young's Outdoor Solutions in Arkansas, is accused of advertising and accepting money to build swimming pools that he failed to complete.
"Young solicited contracts from hard-working consumers, only to take their money and run," said Attorney General Leslie Rutledge. "Now these consumers are left with unsightly and dangerous holes in their backyards."
According to the complaint, filed in the Pulaski County Circuit Court, customers paid Young deposits and costs ranging from $20,000 to $85,000 for the installation of inground swimming pools. Nine consumers have filed complaints against Young with the Arkansas Attorney General's office. In one instance, Young did no work at all, taking the consumer's money and never even beginning the project.
In most cases, however, Young began work, excavating the dirt necessary to install an inground pool and occasionally going so far as to pour concrete, but then stopping work on the project, leaving a large hole in the homeowner's backyard.
After Young abandoned the jobs, consumers reached out to him repeatedly to inquire about their contracted projects. Young continually gave excuses as to why the work was not finished, including telling consumers that he was on his way to their house when he received a call that his son was in a car accident.
Then, as the consumers began talking to one another about him,
Young Outdoor Solutions review on Yelp. they realized he was recycling the same excuses and stories as to why he could not come and finish the contracted work, even going so far as to use the same picture of the alleged car accident.
Furthermore, Young hired subcontractors to work on consumers' homes but failed to pay them, resulting in these subcontractors writing collection letters to consumers and threatening to place liens on their homes. In total, these customers accrued damages from Young in the amount of $430,637.
The Attorney General has asked the court to bar Young from working again in this capacity; to return payments to customers; to pay $10,000 for each violation of the Arkansas Deceptive Trade Practices Act; to pay all attorney fees; and all other just and proper relief to which the state may be entitled.
Young Outdoor Solutions review on Yelp.