increase their own prices. ….
Winning team swims — AZ Diamondbacks motivated to keep opposition out of their pool
There was a rumor floating around Major League Baseball that if the Philadelphia Phillies had clinched the National League Pennant at Chase Field — th...
As winter's official onset looms just around the corner, snow has already blanketed various regions across the country. With the swim season now behin...
Four people were hospitalized following carbon monoxide exposure at a Minnesota hotel. The fire department was called to the Rochester La Quinta Inn a...
In response to a call to action on drowning prevention put forth by the World Health Organization, Water Safety USA has developed a U.S. National Wate...
Training your staff is vital, but it can be costly and time-consuming. Now, the Pool and Hot Tub Alliance is delivering a new, complimentary member be...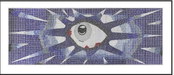 A mosaic tile "Psychedelic Eye," once located on the bottom of Beatle John Lennon's swimming pool, was auctioned on November 29. The mosaic, commissio...
The International Pool Spa Patio Expo
Nov. 15-17, Las Vegas, Nevada
The Pool and Spa Show
Jan. 24-26, Atlantic City, New Jersey
34th Annual National Plasterers Conference
Feb. 8-10, Coronado, California
The Southwest Pool and Spa Show
Feb. 9-11, Houston, Texas
The Western Pool and Spa Show
Mar. 23-25, Long Beach, California