Posted on
increase their own prices. ….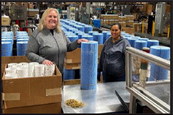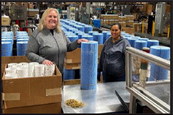 increase their own prices.
"Sometimes if the increased price loses the customer, then maybe you weren't providing a quality or timely service," Schaeffer said.
Still, she's compassionate for the position that everyone seems to have found themselves in as costs have shot up in the last three years.
"I get it. I wasn't thrilled about passing on pricing either. But I have to be viable," Schaeffer said. "And if it's all about price, then I have to tell the customer, 'I'm not your supplier — I'm not a good choice for you.' This is not a win-win partnership."
Among the ways she has kept Unicel viable since the pandemic struck is through the decades-long relationships that her family-run business has cultivated.
"I source domestically, and largely single source domestically, and we've been criticized for both of those things," Schaeffer said, explaining that Unicel could have bought less expensive materials from numerous sources overseas. "But it was the reason I was able to produce during COVID and supply-chain disruptions."
During COVID and after, many imports came to a standstill, but Unicel kept their domestic supply. And because of the company's loyalty to a single source, they were able to maintain their allocations while many other companies floundered.
"I was able to supply our industry filters when there was an unprecedented demand for them because of previous choices that weren't that popular," Schaeffer said.
Schaeffer views her position at Unicel as her birthright. Daughter of Dick Meissner, a pioneer in the pool and spa industry, who manufactured the original Reemay cartridge filter, she grew up on the manufacturing floor. Nonetheless, like so many people within the pool and spa industry, her original life plan was something altogether different.
Schaeffer loved sports and went to college on a basketball scholarship. After suffering a sports injury, she decided to focus on the academic part of college life and ultimately got her Ph.D. in sociology at the University of Southern California, with plans to become a professor.
She was still in graduate school when she began working at the family business, helping to upgrade Unicel's computer system.
"The company needed me," Schaeffer said. That decision set her life on a new trajectory.
While her father ran the administration side and her mother, Hilde, ran production, Schaeffer worked in customer service and sales. A cousin rounded out the management of the business doing back-office accounting.
For decades, Unicel thrived under these capable hands, when, beginning in 2019, Schaeffer was handed the challenge of her life. Her father died in August. Her cousin, who handled accounting, died unexpectedly in December. After a years-long battle, her mother died of cancer in June of 2020.
At a time when the pool and spa industry was experiencing record demand, Schaeffer was suddenly left alone to do the work of four people. And the hits kept coming. Working 7 days a week, 15 hours a day, Schaeffer was still getting her feet wet in production and management when the supply-chain issues began.
Demand for filters was between 20 to 50 percent higher than in normal years.
Among the commitments Schaeffer made during this time to her own customer base was not to take on new customers.
"I wasn't going to cannibalize my existing loyal customers," Schaeffer said. "I paid my supplier's loyalty forward to my customers, so they got product when they couldn't get it from other manufacturers. But they always had Unicel."
Today, operations at Unicel have returned to normal, and Schaeffer's ability to weather the storm enabled
Christine Schaeffer with Laura Navarro at Unicel
Christine Schaeffer with Martha James at Unicel