Posted on
'PARTNERING WITH THE NDPA' - Integrating water safety in your service business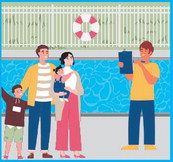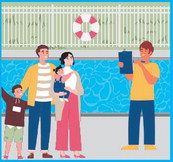 'PARTNERING WITH THE NDPA'
By Adam Katchmarchi, Ph.D. & Alison Petri, Ed.D. – National Drowning Prevention Alliance Having a Lifesaving Conversation Is Easier Than You Think
As a service professional who visits your customer's property on a regular basis, you have a special relationship with homeowners. They trust you to enter their property and help care for their backyard oasis.
You may not realize it, but every service professional is in a unique position to save lives. We all know that water safety is important, as drowning remains a leading cause of injury and death for children. However, sharing water safety information and resources can be a daunting task. The good news is there are simple solutions available that can easily help prepare you and your business to champion water safety.
No one ever wants an accident around a pool to take place. Homeowners don't want to live in fear, but they do need a healthy respect for their pool or spa. Tragic things can happen quickly and quietly. Unfortunately, many homeowners are unaware of the risks and ways to make their pool or spa safer. We often hear the words "I didn't know…" from parents who have lost a child to a drowning.
Sharing simple water safety information can make an enormous impact. The best scenario is to perform a walk-through together so that you can point out specific safety recommendations. However, if that isn't possible, leaving behind safety information such as a water safety checklist or a water safety guide can also make an impact.
The first step in preparing to discuss water safety with your customers is to take an hour and familiarize yourself with the basics of water safety. The National Drowning Prevention Alliance (NDPA) recently released a new and simplified approach to "Layers of Protection" with consumers in mind. NDPA's recommended layers include 5 simple layers that consumers should consider.
• Barriers & Alarms – The use of physical barriers and alarms.
• Supervision – Always having supervision around water that is close, constant, and capable.
• Water Competency – Learning lifesaving skills in the water such as floating and swimming.
• Life Jackets – The use of approved flotation devices in certain situations.
• Emergency Preparedness – Being prepared incase an accident happens.
There are many organizations that have water safety resources and tools available at little to no cost. In 2021, the NDPA launched its "Water Safety Champions" program that is designed to provide tools and resources for pool builders and service professionals that can be easily shared with their customers. The NDPA has sharable social media content, videos, checklists, guides, and other tools available that makes water safety simple for service professionals and consumers. Service professionals can become a Water Safety Champion for free and gain access to new high-quality materials.
We urge you to share this livesaving information with your customers. In virtually every instance, this information will be welcomed and appreciated. Be confident, clear, and empathetic. Conversations like this can create strong and longlasting customer relationships. By showing them how they can protect their families, you become more than just a business to them. You're a partner providing peace of mind and helping them enjoy their pool or spa to the fullest. That is just good business. And always remember that organizations like the NDPA are there to help!