'PARTNERING WITH THE NDPA'
Integrating water safety in your service business
Service Industry News survey reveals most certified, attend trade shows & read trade press
By Marcelle Dibrell Congratulations, pool and spa service professionals: According to a recent Service Industry News poll of our readers, you are one ...
For most pools and spas, chlorine really is the king of water quality maintenance. It's true that for aesthetic reasons and preventative maintenance, ...
According to a press release from the U.S. Department of Labor, a Philadelphia-area swimming pool contractor has been ordered to pay $317,097 in back ...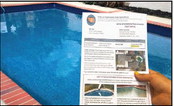 Los Angeles County Vector Control is warning that California's recent heavy rains may result in a mosquito explosion this spring. Steve Vetrone, direc...
Shifting political demographics are playing out in swimming pools. Currently, controversy at a New York City High School is pitting woman's religious ...
On Sunday, April 16, 21-year-old Brenden Dusenberry was found on the floor of his apartment's bathroom, throwing up and unable to feel his left side. ...
The Pool and Spa Show
Jan. 24-26, Atlantic City, New Jersey
34th Annual National Plasterers Conference
Feb. 8-10, Coronado, California
The Southwest Pool and Spa Show
Feb. 9-11, Houston, Texas
The Western Pool and Spa Show
Mar. 23-25, Long Beach, California